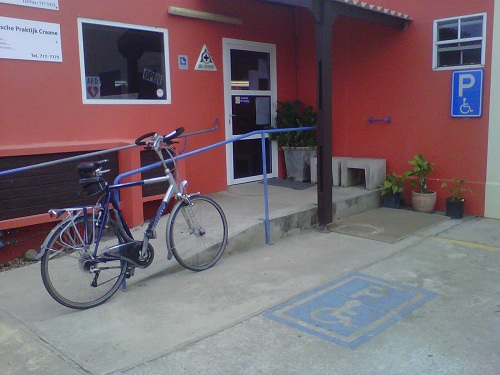 Are you disabled? Motor or mental? And in the first case, are you visually or audibly disabled, or do you have serious allergies or abnormal body measurements? And were you mentally disabled, was it due to a mental handicap or do you have psychological problems, or perhaps a language or reading problem, for example?
Bland? No, it is not. You can really be disabled in a thousand and one ways. It is therefore all the more difficult for 'the group' to determine which street or building is accessible and which is not. Because someone who is paralyzed half-sidedly and still manages to move on with a cane, is driven on his face by the ridges that are made in the floor for the blind and visually impaired. An inclined slope in front of the door is nice for someone in a wheelchair, but for someone who walks particularly difficult, for example if you have a foot drop.
So are you never doing well if, as an entrepreneur or government, you try to design your buildings in such a way that everyone can use them? Yes. Every handicapped person understands that it is simply a matter of choosing for the larger combist. But how?
There are scientific agencies that deal with disability issues and have been considering this for years. We will try to bundle this information so that universal lists will be placed here with requirements that public places should meet in terms of accessibility.
Owners or managers of public spaces and buildings on Bonaire will soon be able to complete the checklist on the website of MiVaBop. This way you can immediately see what you, with your disability, can or cannot use. Is your destination not listed? Let us know. Is he listed but no information has been entered? Then contact the relevant entrepreneur or organization.